20 Korean Words in the English Dictionary
Our content is reader-supported. We may earn a commission if you make a purchase through one of our links.
From the world's biggest army of BTS to the world's biggest show "Squid Games" we're swaying and exhilaratingly surfing on the Korean wave, "Hallyu" as the Koreans like to describe it, and honestly, we love every bit of it. Taking a tour around the world, the Koreans have gained incredible international recognition for the past two decades. Apart from Korean words, they've provided us with not only great entertainment and delicious kimchi but with Korean beauty products for that glowy glass skin that is a dream of every girl on the planet.
The first breakthrough appears to be Bong Joon-ho's movie "Parasite" which became the first-ever non- English movie to win the Oscar for the Best Picture, and now they've achieved another milestone as 26 Korean words have been added to the new updated Oxford English Dictionary. It is a shining moment for Korea as President Moong Jae-in announces the news proudly at the Hangeul Day.
26 Korean Words in English
Korean words added to English are aygo, banchan, dongchimi, dabaek, fighting, galbi, oppa, unni, skinship, noona, mukbang, kono, kimbap, hanbok, hangul, mahwa, yangban, galbi, dongchimi, chimaek, OED, taekwondo, bulgogi, tang soo do, sijo, hallayu, k-pop, k-drama, k-beauty, kimchi, Korean wave, BTS
Why were Korean Words Added to English?
Jieun Kiaer, a Korean linguistics professor at the University of Oxford and a consultant on the project of adding Korean words in the English dictionary, believes that it enriches the English language. According to her, the English language is evolving and through the Korean media being watched, it has been noticed that various Korean words are being used by English speakers.
"The adoption and development of these Korean words in English also demonstrate how lexical innovation is no longer confined to the traditional centers of English in the United Kingdom and the United States — they show how Asians in different parts of the continent invent and exchange words within their own local contexts, then introduce these words to the rest of the English-speaking world, thus allowing the Korean wave to continue to ripple on the sea of English words," said OED in a statement.
Words of Korean Origin in The Updated Dictionary
• Aygo, n., and adj.: This is the most used word for referring to charms of a person or behavior considered adorable or cute. Flirtatious gestures and expressions are commonly expected both from men and women K-pop idols. "Mr. Kang is trying using his Aygo to impress his colleague" is an example of how the word is used.
• Banchan, n.: In Korean cuisine, banchan, also known as bangsan is referred to as side dishes. Since the Korean language doesn't differentiate between plural and singular grammatically, it can be any number of side dishes. The side dishes aren't appetizers although they are served before the main course, rather they are condiments and are a very essential part of every meal.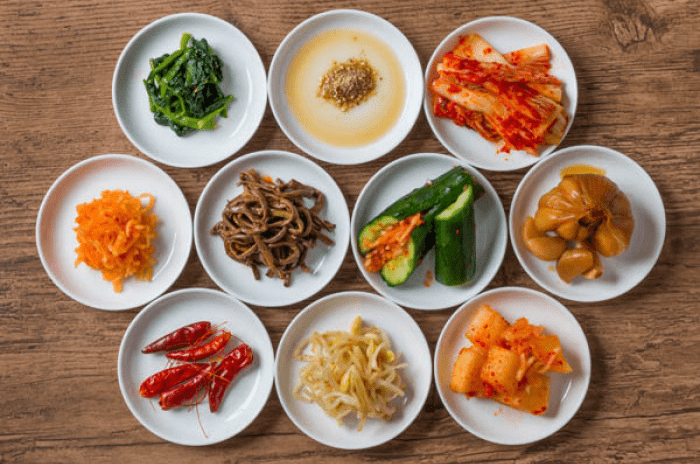 • Bulgogi, n.: The literal meaning translates to "fire meat", bulgogi is one of the most popular Korean dishes. It is marinated beef or pork, chicken is also commonly used, in the form of thin slices that are grilled on barbeque or stir-fried if cooked at home.
• Chimaek, n.: Chimaek is yet another Korean dish that was popularized outside Korea when the k-drama "My Love from the star" aired in 2014. It is fried chicken rice that is served with beer.
• Dongchimi, n.: We're all familiar with spicy delicious kimchi, and daongchimi is a type of radish kimchi served specifically in the cold season of Korea. It is made by fermenting radish, napa cabbage, pear, spring onions, and green chilis for 2-3 days. It has a clean and clear taste that is often used for cold noodle soup.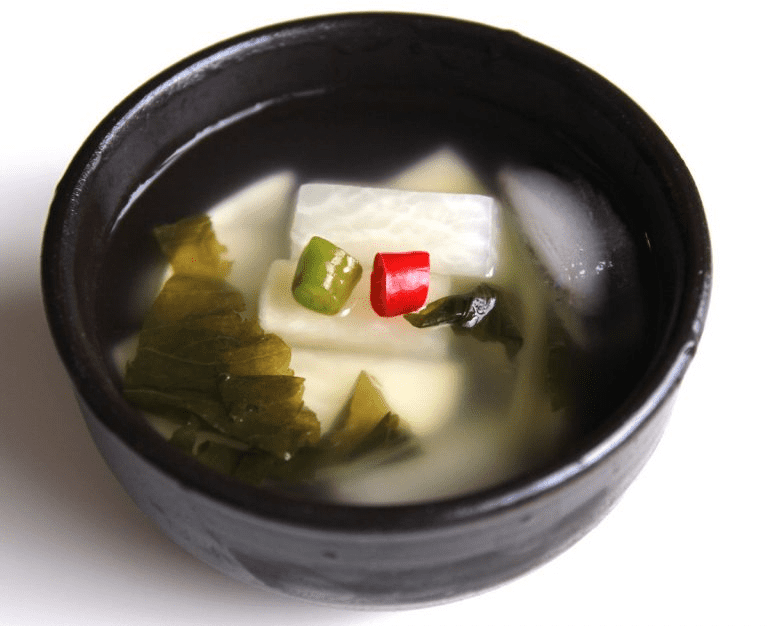 • Deabak, n., int., and adj.: This word has several meanings. As a noun, it means something profitable and advantageous. In a sentence, it would be used like, "I'm told that my future is bright and deabak is soon coming my way." The word is mostly used as an interjection expressing enthusiasm, just like the words "wonderful!" or "fantastic!" are used. Daebak can also be used as an adjective describing something great or wonderful, like, "This sunset is daebak."
• Fighting, int: Among the words that are added to OED, some are words that have a new sense and meaning of existing English words. The English word fighting in the Korean context means to cheer up or encourage. It is used during sports games to cheer for a team or toasting at parties.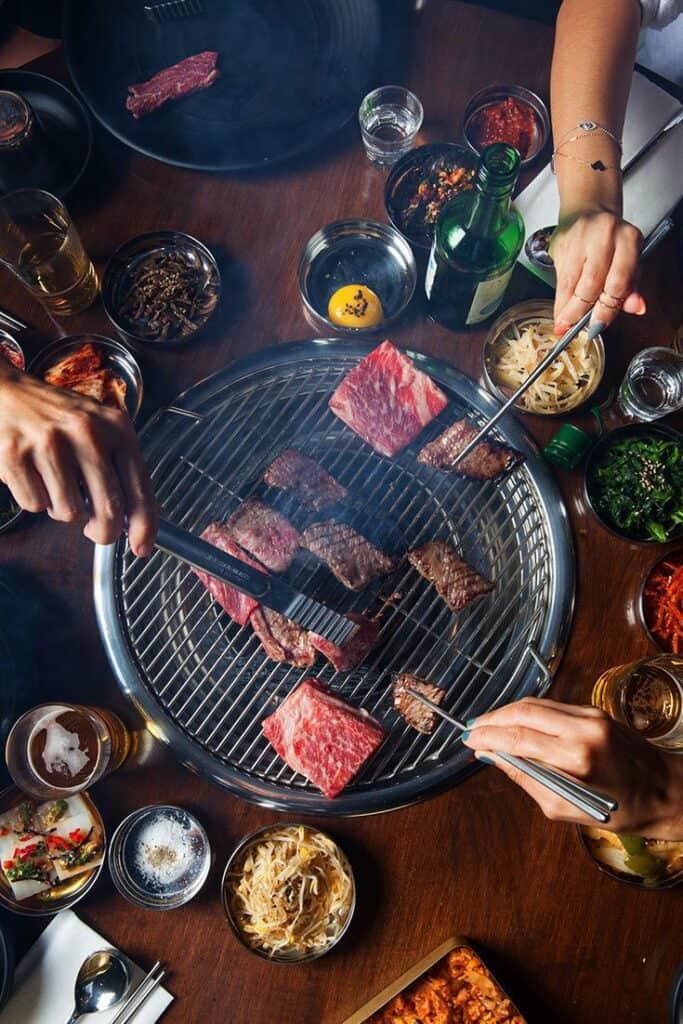 • Galbi, n.: Galbi is Korean for "ribs". In Korean Cuisine, galbi or galbi gui is grilled ribs, mostly short beef ribs or pork spareribs that are often served raw to diners at restaurants and then grilled on tabletops by them.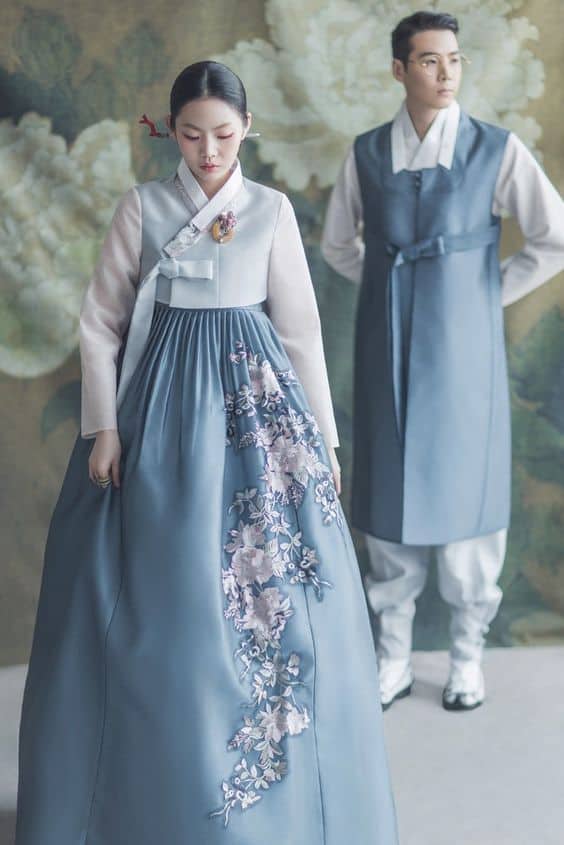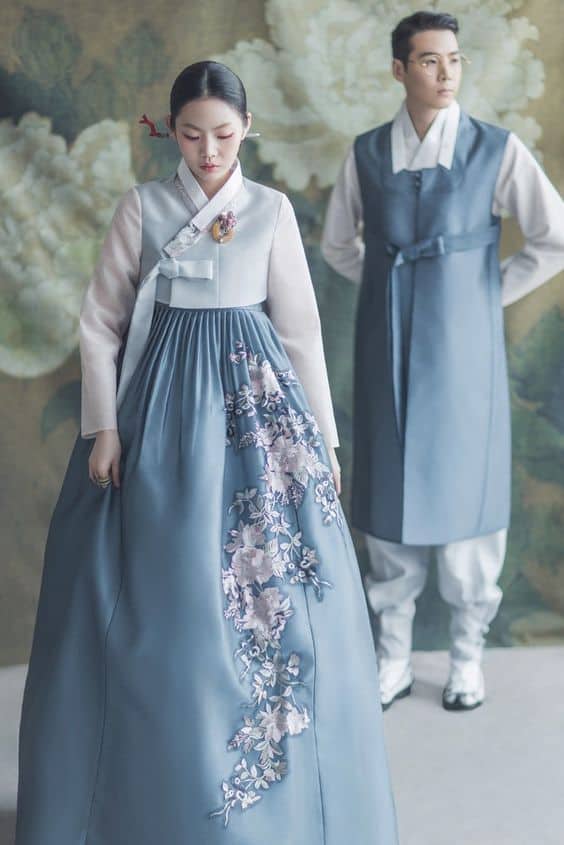 • Hanbok, n.: The traditional attire of Korean people, that consists of a long-sleeved jacket and loose-fitted trousers for men and a long-sleeved blouse, a high waited long shirt for women. Typically, these costumes are only worn at formal events or traditional celebrations.
• Tang Soo do, n.: The Korean version of Karate. Its Korean martial arts dates to the 17th century that consists of striking blows by hands and feet. It may also include some principles similar to subak.
• Manhwa, n.: The Korean term referring to print cartoons, comic books, and occasionally animated movies. It is a significant part of South Korean culture.
• Mukbang, n.: One of the most widely Livestream videos around the world, where a person eats a large quantity of food while talking to the audience. These ASMR food videos are a global trend.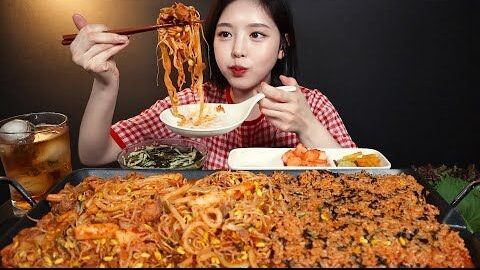 • Kono, n.: This is a term for Korean games of strategy, played on boards, diagrams, or ground that involves the use of marbles or other objects. Among several, The Four Field Kono and The Five Field Kono are played widely.
• Kimbap, n.: Similar to the Japanese sushi rolls, kimbap is a Korean dish made with steamed rice wrapped up in seaweed sheets and cut into slices. The main difference between sushi and kimbap is the rice and seasoning.
• Sijo, n.: A genre of Korean poetry and classical vocal music, characterized by a simpler fixed melody form of two to three tones.
• Skinship, n.: This is a blend of two English words, "skin" and "kinship", used in Japanese and Korean context referring to close physical contact between a parent and child, lovers, or friends as a form of expressing affection to strengthen emotional bonds. The role of skinship as a parenting technique to prevent mental stress among children is a hot topic in Japan and Korea.
• Noona, n.: A respectful form of addressing a boy's or a man's elder sister, or an older female friend in the Korean context. For example, "I can't go out with you because my noona won't allow it."
• Unni, n.: A respectful form of addressing a girl's or a woman's elder sister, or an older female friend in the Korean context. Here's an example, "My unni makes the best kimchi."
• Oppa, n.: This word has more than one meaning that solely depends on the context. It can be used as a respectful form of addressing a girl's or a woman's elder brother, or it can be used as a term of endearment for a boyfriend. Another popular use of the word is when referring to an attractive male, especially a celebrity. An example would be, "South Korea has the most dashing oppas."
• Yangban, n.: This is a historical word referring to the aristocrats of Korea or the ruling class. The word yang, meaning both and ban, translating to a group comprised of both the civil and military elites.
Conclusion
These are just some of the Korean words in the English dictionary representing the core of Korean culture. Here's a toast to The Koreans for achieving this milestone and here's a toast to the many more yet to achieve.
If you want to learn more about foreign words added to the English language, you might be interested in learning about Indian words in English, this list will surely amaze you. Fighting!