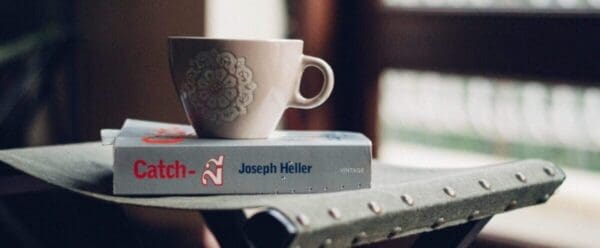 Our content is reader-supported. We may earn a commission if you make a purchase through one of our links.
American novelist Joseph Heller first used the word "Catch-22" in his 1961 satirical war novel Catch-22. Joseph used different characters to illustrate the idea of "Catch-22". The word gained popularity after the release of the novel and dictionaries started acknowledging the word.
What is the Meaning of "Catch-22"?
"Catch-22″ is an unescapable situation that is caused by given circumstances. It's like the chick-egg problem, where we need a chick to get an egg, but we need an egg to get a chick. It's like running out of gas for your car. To start your car, you need to get to the gas station but you can't.
Some Background
In a novel, a squadron psychiatrist named Doc Daneeka cited the Catch-22. His friend, Captain John Yossarian asked him why is he so reluctant to ground anyone from the battle duty. Doc Daneeka explained to him that the "Catch-22," says only an insane person can't fly a plane.
To declare oneself insane, one has to ask for it. Where "Catch-22" also says that a concern for one's safety in the face of dangers that are real and immediate is proof of sanity.
So an "insane person" who asks to be grounded during the war can't be "insane". Therefore it's ok if he/she flies a plane. A crazy person does not have to fly a plane but if a crazy person does not want to fly a plane then he/she is sane so he/she has to fly a plane.
The synopsis is that one has to fly and carry out the mission anyway.
While criticizing the martial system with satire, the writer revisited the concept of "Catch-22" throughout the novel.
In the sixth chapter of the novel, Yossarian was introduced to a new definition of the term. He was told to obey all the orders of his commanding officer. Even if the orders of his officer are contradicting with the Force regulations.
Examples of "Catch-22"
In chapter 16, a prostitute said Yossarian is crazy when he proposed to marry her. Her narrative was that only a crazy man can marry a non-virgin woman. Thus the proposal of Yossarian illustrates he is crazy. And she is not interested in marrying a crazy man.
Her logic exhibits the "Catch-22". All men who refuse to marry her are sane but can't be married because of their refusal. But when a man agrees to marry, he becomes crazy and is rejected.
Many enterprises reject interviewees due to zero experience in the field. And that process of rejection repeats itself for the same reason. Making the interviewees think that how can they get any experience until they get a job that will give them the experience needed to get the job?
There's a saying that the only way to qualify for a bank loan is to prove that you don't need a loan. Similarly, we all have that one friend who wants to start his own business to earn money. But he couldn't get the money to start his business.
Frequently Asked Questions
Is the concept of "Catch-22" relatable to science?
In quantum computing, the mandatory act of extracting the superposed data causes the waves to collapse and the data is lost. As an act is mandatory, so it's unavoidable to save data.
How can I use the word "Catch-22" in my writing?
Catch-22 is a noun that can be used in the following ways. "This is like a Catch-22 problem," or "I find myself in a Catch-22."