Is Grammarly Premium Worth it for Freelance Writers?
Our content is reader-supported. We may earn a commission if you make a purchase through one of our links.
Proofreading and editing are not new to the literary world. They have been there and in use for centuries. The human editorial workforce has traditionally served as the gatekeeper. By editing all work before it reaches the reader, editors have ensured that only the highest quality texts with minimal corrigenda go through. However, the scenario has evolved ever since.
As humans, we are prone to inaccuracies that can potentially downgrade our efforts. This fact is more apparent when it comes to writing. Experienced writers with substantial command of language can also end up with grammatical and syntax errors in their prose.
Technological achievements have always gratified humanity's insatiable desire for excellence in practicality. In that subject, the development of grammatical correction software is one such innovation that has drastically altered the world of writing.
If you work as a writer, there is a high probability you have used or come across the writing aid software, Grammarly. When you consider the most high-end writing assistants, Grammarly seems to be the most prominent word that comes to mind.
What is Grammarly?
Crossing 10 million users globally, Grammarly is among the most ubiquitous, prominent, and well-received editing tools available in the market. As this application can quickly examine papers for faults and duplicated text, most authors prefer to use Grammarly when writing and proofreading.
The core configuration of this application is simple to describe and comprehend. It evaluates the written material for grammatical errors, spelling mistakes, syntax, readability, originality, and other concerns like coherence and clarity. Although human eyes can miss slight errors, the stringent text evaluation by Grammarly leaves no stones unturned.

How does Grammarly Function?
Grammarly highlights all of the critical mistakes in red. By clicking on such issues, you can either fix them or avoid them altogether. If you are using the browser extension, all reports for grammatical, capitalization, and spelling mistakes will be displayed on the right side of the screen.
It will alert you to all types of writing problems and suggest changes to rectify them. You can use this application to select the variant of English you would like to operate according to the geography of their core audience. You can choose between UK, US, or Australian English, depending on your target audience.
Grammarly offers two pans. The free version and Grammarly Premium. The latter offers the full set of amazing features.
Although the free version is enough to beat competitor software. The premium version ups the game and offers extra functionality such as plagiarism detection, composition style refinement, and professional writing advice.
Grammarly Free Version
Among the most appealing features of this software is that you can use it endlessly after installing the application or the browser extension. When using Grammarly's free edition, there is no time limit or trial period.
It will thoroughly analyze your work and provide feedback on its grammatical, syntax, and punctuation errors. The free plan is generally adequate for most individuals. But if you write professionally, Grammarly Premium is worth every penny!

Grammarly Premium
For those who seek more from grammatical analyzers, Grammarly provides a premium subscription, which is unlocked by spending a monthly or yearly charge. You receive every feature you obtained with the freemium model using the premium upgrade, but with some additions. These include punctuation, sentence construction, context, vocabulary expansion, plagiarism detection, and genre specificity.
Grammarly Premium Features
1. Linguistics and Punctuation
Grammarly catches comma splices, redundancy, fractured phrases, and other proper grammar and apostrophe faults in your work. Not just that, but it also emphasizes to the users why the mistake was a strategic error. As a consequence, it also performs the function of mentoring and instructing students on basic grammar rules.
2. Spelling Check
Re-reading your text several times to eliminate writing errors is a hard row to hoe. But The application detects any spelling errors right away. Correcting these errors requires just one click.
3. Plagiarism Detection
The Grammarly Plagiarism Checker examines your writing for any content that has been copied, intentionally or unintentionally. It enables you to stay cautious by notifying you if any part of your writing has been reproduced.
4. Writing Style
Grammarly is your personal writing mentor. It will provide feedback, suggestions, and tips to improve your prose style. It also offers input on readability, coherence, lexical sophistication, and other characteristics, allowing you to fine-tune your writing to near-perfection.
One of the best features that Grammarly Premium has to offer is active/passive voice detection. The use of passive voice can make your writing less engaging. It's almost impossible to avoid using the passive voice because you're prone to miss it at some point in the text. But that is not the case with Grammarly. It pinpoints the slightest cases of passive voice so you can make your content as engaging as possible. This is one of the biggest reasons why Grammarly Premium is worth it for freelance writers.

Grammarly's Great Compatibility
Grammarly can be used through plug-ins and extensions as well as a separate application on different devices. Listed below are some ways to employ Grammarly for proofreading:
1. Web-based Application
The first approach is the standard copy-paste procedure. Copy your content into Grammarly's online editor. To start, visit the homepage and select 'new page' from the drop-down menu. On the window's right side, you will see a new page with thorough content analysis.
Copy and paste the writing onto the blank screen, and Grammarly will do the job. In a couple of seconds, your entire document is analyzed, assessed, and corrected. You can upload an entire finalized article straight from your computer and edit it there to avoid the time and energy of copy-pasting.
2. Desktop Application
Grammarly also functions as an application that runs on both Windows and Mac OS. You have to download the application to your pc and start using it as you would online.
3. Microsoft Word Add-in
If you use Microsoft Word, you can add the Grammarly word add-in. To install the add-in, follow the instructions on the add-in page. You can also double-check the quality of your writing through the add-in as you compose.
4. Smartphones
The Grammarly Keyboard app is accessible on Google Play and Apple App Stores. For both iOS and Android, Grammarly features a user-friendly keypad.
The software can conduct assessments while composing emails or messaging on your smartphone once you have installed it. It also assists you in typing more quickly by making intelligent recommendations about the choice of words.
5. Browser Extension
A chrome extension is a convenient method of employing the Grammarly plagiarism checker. The link to the plug-in can be found on Grammarly's webpage.
When you install the Plugin, the program will automatically assess your content writing. Furthermore, the plugin comes in helpful when sending emails because it enables you to rewrite your work on the go.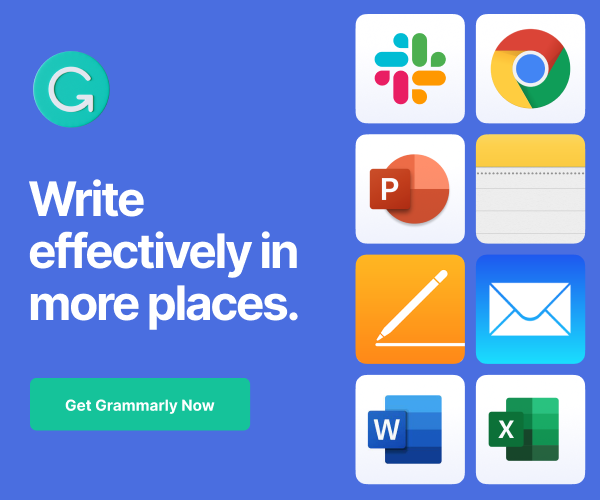 So, is Grammarly Premium Worth it?
Given the meager amount you have to pay for a Grammarly Premium subscription, the benefits of using this premier editing software outweigh the cost by scores. Grammarly can help you improve your writing in a jiffy, and this is extremely advantageous if you are a freelance writer.