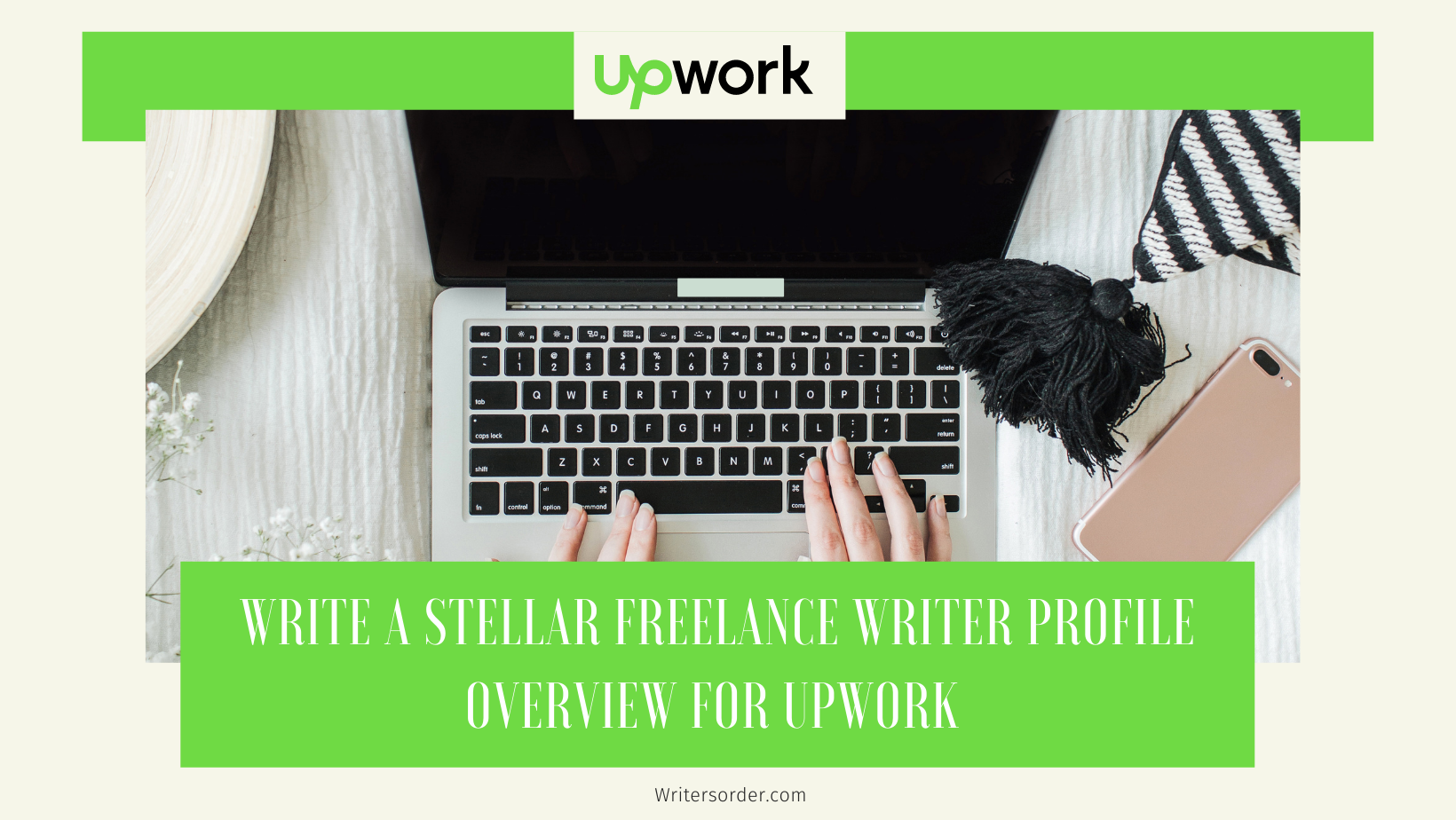 Write a Stellar Freelance Writer Profile Overview for Upwork
Our content is reader-supported. We may earn a commission if you make a purchase through one of our links.
Apart from your freelancer rating and Job Success Score, your Upwork freelance writer profile overview is one of the few things that form the first impression on potential clients. And like we all know; the first impression is the last impression.
This is especially true for freelance writers. Whether you're a copywriter, creative writer, or specialize in more technical niches, the one mutually essential aspect for all freelance writers is the writing style. And the most critical demonstration of that is your freelance writer profile overview.
I know you're going to send the client some stellar samples of previous work and convince them to hire you. But you know, that won't work if you failed to convince them with your profile overview. For writers, the Upwork overview is arguably the first sample of your writing the client is going to see before they hire you. The text you compose in that overview box has the power to either woo potential clients or send them away even before they interview you.
How to Write a Freelance Writer Profile Overview for Upwork
Start your freelance writer profile overview by capturing the reader's attention. Write something catchy. Next, talk about your skills and experience. Copying someone else's overview will not serve you well. Keep it short and error-free! End the overview without something that leaves an impact.
Checklist to write Upwork Intro for Freelance Writers
Before you begin, you might want to read what Upwork itself has to say about creating a profile overview. It's all about understanding the purpose of the profile overview and knowing what clients want to read.
Oh yeah, the title! The title, of course, also plays a very important role in your profile and must not be ignored. I believe you can very well come up with a professional and top-performing title as you're in the process of writing the profile overview. This is because your overview gives you direction as to what title you want your clients to know you with. Read more about how to create an outstanding freelance writer profile title for Upwork.
Okay. So without further ado, let's hop right in.
1. Capture Attention
The first line of your overview will make or break your entire profile. Write something catchy, but professional. Pose a question. Get the client interested.
The first line is the best place to use a fancy word. After all, the more you show off your vocabulary, the more impressed your client is. But don't overdo it! You could alternatively use some great client feedback to start your overview. Build that credibility!
You want to avoid naïve introductions like,
"Hello! My name is John Carter. I am experienced…"
"Hi. I can offer excellent writing services…"
If your profile starts with an intro like this, you will, unfortunately, fail to attract clients. To set yourself apart and establish your creative skills as a writer, you need to start with something more professional, but at the same time attractive. It's all about maneuvering your words, which writers know very well.
2. Mention and Demonstrate Your Skills
Once you're off to a flying start, you can use that well-earned attention to bring your set of skills to the client's consideration. Your skills, talents, and passions have an important place in the freelance writer profile overview, but you need to determine the best place for it.
Shall it come after you've mentioned your experience, shall it come right after the first one or two sentences? I'll leave that up to you.
The thing about writing about your skills as a writer is that you're demonstrating them at the same time! So don't forget to use your literary devices.
3. Mention Your Experience
Experience matters the most, right? So yeah, make it count. As a freelancer on Upwork, a big part of your profile is your Job Success Score and the number of jobs you've worked on. But for writers who have plenty of experience out of Upwork, the profile overview is the best place to put it on display for your clients.
Here again, there are ways to speak of experience. And if you really are an experienced writer, you'd know how poorly written these examples are:
"I have a lot of experience in all kinds of writing projects."
"I am really experienced in copywriting."
Simple language works well when you're writing a how-to article. But that's not your go-to writing style for a freelance writer profile overview. Here are some better ways to talk about experience:
"With X years of professional experience under my belt, I consider myself well-equipped to…"
"After working with X companies and 100+ individual contractors, I consider myself well-established in the field of web copy."
Most importantly, you need to be specific for a client to believe you. Don't write up vague claims about your experience. State exact numbers, names, and places to build credibility.
4. Don't Forget to be Unique
Shortcuts will not get you anywhere. Speaking from personal experience, I've seen plenty of freelancer profiles that have simply copy-pasted someone else's profile overview. My own profile overview was recently stolen, and I got that profile reported.
Chances are low that a client will recognize that your profile overview is copied, but it's simply immoral. Moreover, if a client does find out by some chance, they will simply not want to continue working with you. Because if there is one thing that you are not allowed to do as a freelance writer, that is copy someone else's work.
5. Leave a Lasting Impact
Before you end your profile overview, you want to add one or two sentences at the end that stands out from the rest of the text. This could be a little something about yourself, what you can help the client accomplish, or a guarantee of a great experience for the client if they decide to hire you.
This could alternatively be a Call-to-Action for the client to interview you. Here are some great examples of freelance writer profile overview endings:
"My ingredients for a great client experience are quick responses, integrity…"
"I'd love to learn more about your project and your preferences to deliver the results you want."
6. Keep it Succinct
Upwork gives you 5000 characters' worth of space to write all about yourself. But that is too much. You need your profile to be client-oriented. Help make it easier for your clients to evaluate your profile by keeping it short and sweet.
A profile overview between the 800-1200 range is ideal. This is because clients have to review several freelancer profiles when they're hiring and don't want to spend 5-minutes going through each profile. They are more willing to read about freelancers who've put their overview concisely.
The more succinctly you can convey all the important information about yourself, the higher the chances are of you getting hired. I understand this can seem like a catch-22, but it's all about striking the balance.
7. No Space for Errors
Apart from plagiarizing, the second thing that you are not allowed to do as a professional writer is to make spelling and grammatical mistakes. Proofread your freelance writer profile overview a few times and run it through spelling and grammar checks to be on the safe side.
If a potential client spots spelling or grammatical errors in your profile intro, they are immediately put off. This is because immaculate writing is what you're paid for as a freelance writer.
Bonus Tips
1. Compose your Freelance Writer Profile Overview in a Writing Software
You're advised to compose your profile overview on a writing software rather than typing it directly in the little box Upwork gives you to write the overview. Use writing software you're comfortable with so you can brainstorm freely. Make sure to use tools like Grammarly to make your text impeccable, Grammarly's worth it for freelance writers.
2. Put Yourself in the Client's Shoes
Take a moment and suppose you're a client looking to hire a freelance writer for your project. Then read your profile overview as that client. Does that overview interest you? Did you find the information you need to pursue hiring that freelancer? Was the short piece of text successful in persuading you to interview the freelancer?
Ask yourself these questions and try to identify what attracts a client. Try to identify missing information a client would like to read and then add that to the overview. Being client-centric is the key.
3. Do Not Undermine Yourself
It's okay if you're just starting on Upwork. We all start somewhere. But you don't want to mention your lack of experience in your profile. Better yet, you could talk about how you look forward to starter-level jobs and build your way up from there.
Simply stating that you don't have a lot of experience will push the client away. No one wants to be an altruist in the freelancing world. So go on and use all the tips mentioned above to create a stellar freelance writer profile overview. Happy freelancing and may the odds be ever in your favor.
Perfect Freelance Writer Profile Overview Samples
A Writing Precisian
"The artistry in choosing the right set of words to convey an idea isn't run-of-the-mill. With a partly inherent and partly acquired prowess in verbal expression, I consider myself well-equipped to handle any writing task thrown at me.

Be it articles, e-books, fiction writing, research papers, or product advertising; I've worked on virtually all writing categories. Well experienced in SEO, I'll compose comprehensive and striking pieces of text for business and website promotion. Any and all content that goes through me is thoroughly proofread, fact-checked, and 100% plagiarism-free.

Professionalism, Integrity, and Passion are my ingredients for success."

– Ahad Waseem
Health & Wellness Writer
Are you finding it hard to get the time required to pledge to develop the volume and quality of content that's needed to sustain optimal engagement and relevance in your business or blog?

I'll develop engaging and original content for you. I can develop content that includes blogs, articles, and marketing materials like newsletters, EDM, eBooks, and sales pages. I've 10 years+ of experience in the health and wellness industry, with expertise in skin health, nutrition, and copywriting.

WHAT I CAN PROVIDE:

Blogging/articles/webpage content/eBook, Copywriting, Writing and editing website content, SEO optimization. Proofreading, Writing/rewriting articles, and Ghostwriting.

I'm flexible with content requirements and happy to discuss other topics you might need. I am open and approachable, and welcome your feedback. You should know that it's important for me to have an approach that works best for you."
Do check out my article on how to write proposals as a freelance writer to get more interviews!