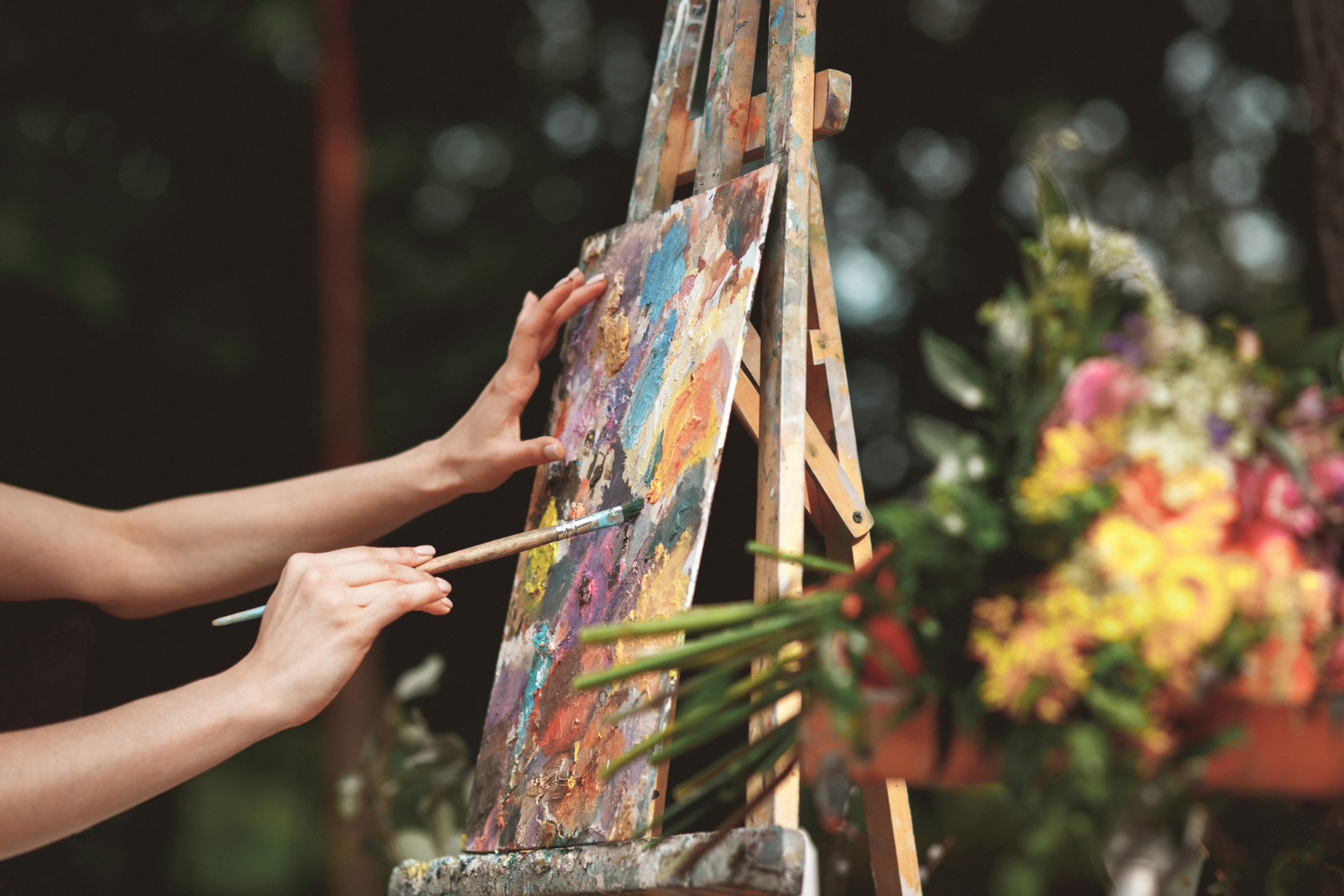 12 Steps to Become a Successful Artist
Our content is reader-supported. We may earn a commission if you make a purchase through one of our links.
Although it may seem the opposite to most, art is one of the toughest professions. While several creative individuals can make stunning pieces, only a handful are lucky enough to become successful, professional artists. To become a full-time painter, you must be ready for the challenges you would face in any other skilled field.
Art is a tough niche to break into; however, with the right attitude and habits, a lot is possible even for beginner artists. Finding the right exposure and platform that understands and appreciates your work for what it is worth is becoming progressively hard.
To excel in the art field, you must mold your artistic talents in a way similar to a typical entrepreneur's. A plus point here, however, is that in most cases, you are your own boss, who does not have to follow orders or paint a certain way.
But getting there and staying on the success path is not easy. There are certain steps you must follow in order to achieve your goals and become successful. With the correct strategies, you can create beautiful art pieces and make a good living out of your passion for art. The steps listed below are the pathway that will lead you to become a successful artist.
12 Steps to Become a Successful Artist
Find Your Spark
Master Your Artwork
Diving Deeper into Your Passion
Learn More About Art
Explore Your Artistic Limits
Expanding Your Art Portfolio
Building Your Social Profile and Web Reach
Finding Your Art Mentor
Treating Art like a Business
Growing Your Art Community and Network
Marketing Yourself and Artistic Talents
Working with a Professional Art Agency
Step 1 – Find Your Spark
You do not have to create a masterpiece the first time around. Know that there will be several times when you will want to throw away a painting or just not like it at all. You might see another artist's artwork and compare, thinking they are doing so much better than you.
However, please remember that this is all part of the process. All those paintings before the actual masterpiece are helping you make each line even better the next time around. Each artist and artwork that you see is inspiring and motivates you to do better.
You are not aimlessly drawing all these guideposts, wasting time. All the crafted art pieces are bringing you closer to the true artistic impulse that will lead you to the real artistic masterpiece. Every time you paint a tree, flower, or face, you learn more with each stroke.
The art profession is similar to writing; a writer needs to read good books and surround themselves with excellent novels and writings full of innovative ideas. An artist also sees and appreciates other artists' work, not to compare or judge, but to be inspired to create something unique and just as magical. Believe that your artwork is just as valuable as others and you'll seldom find yourself criticizing your work unreasonably.
Step 2 – Master Your Artwork
'Practice makes perfect.' This is not simply a quote for teachers to tell their students, but an entire idea that, when implemented, leads to great results. Practicing is the key to mastering your artwork or any profession, be it writing, singing, or dancing.
Know which types of brushes are most appropriate for what part and detail. Learn the importance of light in each of your paintings and use your brushes and strokes accordingly. Look for art courses, such as Charles Yang's course, for improving your craft and making realistic drawings.
Try to grasp each component of painting exceptional art pieces, covering everything from basic art sketching to lifelike 3D art that makes differentiating painting from reality difficult. Practice as much as you can to polish your skills to the finest in the shortest time.
To maintain the practice, keep tools like a daily sketchbook to draw something new each time. Make art not a duty, but a therapeutic measure or an outlet for expressing your artistic energy. As you sketch daily, you will realize your skills and ideas are improving with each passing day.
You don't have to sketch the Eiffel tower or the Burj Khalifa on the very first day; start with the things you are surrounded by, such as a lamp, vase, or even your pet. Keep up the daily sketching to wow yourself by the time your sketchbook finishes.
Step 3 – Diving Deeper Into Your Passion
The world of art is full of possibilities and innovations. You don't have to stick to the traditional artistic ways of plain drawing, but expand your horizon and learn texture-form drawings. Make drawing an exciting activity that involves more exercise than just lifting a pencil.
Before getting into it, warm up and prepare for something as essential as your career. Warm-ups before drawing also increase the accuracy and speed of your mind and hand coordination over time. Such practices will improve your skills and train you for complex work simultaneously.
Find yourself a large and clean sketching sheet, a fine drawing utensil, and a wide surface area. Think of different textures and designs and fill the paper sheet with them. You can use ideas from your mind or grab textured ornaments from your surroundings and hold them at certain angles and ways to get the same texture. Once you learn how to sketch the desired pattern, try practicing without the ornament.
You may not like your initial sketches, but remember, you will only get better as you practice more. Try setting a five minutes timer for doodling small, distinct shapes. Next, use different textures to draw a variety of things from numerous angles. You can also use various colors to keep things interesting, as each color acts at a different energy level.
Step 4 – Learn More About Art
Find out ways to make your drawings more interesting and realistic. Learn about unique techniques and incorporate them into your drawings. Search about drawing from different perspectives, which allow you to sketch a subject from various angles.
For instance, if you are sitting in a park with a fountain in front, learn how to draw from that angle exactly. Sketch a large fountain at the focal center with kids and swings at the sides. Draw the surrounding trees and birds or other animals at various distances and of different sizes, helping the viewer see the drawing as if it was a real image.
Step 5 – Explore Your Artistic Limits
You don't need to stick to one niche; explore your limits and discover new art forms every day. This doesn't mean you have to try something different each day; however, we suggest you keep things fun by looking for some different form of art and creating it your way. To be open to trying new things is something every veteran wishes they knew as a beginner artist.
We suggest trying abstract painting one day and switching to the Chinese style the next. Likewise, go for surrealist painting some time and try impressionism art other times. Keep changing between different art forms to add to your experience and portfolio so employers also know that you can work with versatile styles.
However, stretching yourself beyond limits is not really a smart idea, especially if it's costing you mental peace and making you doubt yourself repeatedly. Once you think you have tried enough art forms, note what you work with best and build upon it.
Remain focused on one or more art styles, whatever rows your boat. Practice these art forms as much as you can so that your hands, mind, and timing are all in proportion and connected.
Another advantage of staying focused on a particular style is that once you know it inside out, the art form can become your signature style. It can be your brand and what you are recognized by. Do not only paint for art galleries and exhibitions but also find out how far you can go and which other niche brings out your talent fully.
Step 6 – Expanding Your Art Portfolio
When you know what niches you work best in, it becomes easier to make and further expand your art portfolio. Avoid adding plain terms like 'artist' or 'painter' in your portfolio. Instead, try to make it as interesting as your paintings.
Your talent is for the world to see, appreciate, admire, and recreate if the odds are in your favor. Add all the essential details that make you, you. A portfolio is mostly what will tell your story to employers or other art gallery owners before you get the chance. Therefore, ensure it accurately describes you and helps others see why you are the best candidate.
Step 7 – Building Your Social Profile and Web Reach
Perhaps one of the most important factors to achieving success in current times is a good social profile and easy web reach. The digital age requires artists and other professionals to be available and reachable on social media sites like Facebook, Twitter, and Instagram.
Thus, making a website that is entirely dedicated to your artwork is a smart idea to connect with a wider audience. Maintain your social media accounts alongside displaying your latest artwork to remain at the top of your game and grow your audience.
To make things more exciting, try vlogging the entire process of making a particular painting. Post videos or reels of the creative process, allowing your audience across all your social media platforms to see how you create magic with paintbrushes.
One excellent way is to post your art on well-reputed platforms. These websites, like online art galleries, allow new as well as experienced artists to show who they really are without having to display their work according to others' preferences.
You should use an online art gallery with an easy reach that enables sellers to upload their work and relevant collectors to find it quickly. Certain galleries do not ask artists to pay hefty amounts for showcasing their work. At an affordable price, you can post your art, write content for it, and connect with buyers. 
Moreover, you can engage with people and see what they want by posting your artwork and considering comments and suggestions with positive criticism. Build a community of fans and supporters and keep them in the loop, informing your audience about upcoming work and exhibition shows.
Step 8 – Finding Your Art Mentor
Doing any work, whether art or otherwise, has little meaning if it has no direction. Look for an art mentor or an experienced art fellow who can guide you better and push you to do your best. An art mentor does not necessarily have to be famous. However, your mentor must be someone who understands art at all levels and never compares but only encourages you to become the best version of yourself in every possible form.
Step 9 – Treating Art Like a Business
Art is no different from any other business. Therefore, treat your art just like you would treat any other profession, be it clothing, jewelry, or services. Remember to find and utilize appropriate and efficient strategies to market your work.
Target the audience that would be most interested in paintings and other art forms instead of selling your work to buyers least interested in art. With each painting, write a brief yet meaningful description, making the readers aware of the idea behind the landscape.
Along with art and its description, write your story and share your career-associated struggles with the world before the readers reach the painting. Knowing the artist of any painting helps the audience connect and understand the painting better.
You can also form a good, professional relationship with various well-established agencies that appreciate your work and efforts. Give-and-take is the primary rule of the business world; therefore, remember to give something when a business, such as an art gallery, is taking your paintings for display and selling. As you gain popularity and stabilize, you can shift to arranging your own art exhibitions instead of collaborating with other agencies.
Step 10 – Growing Your Art Community and Network
If you have made considerable profits after an exhibition or art fair, don't just stop there. Refrain from becoming invisible or unreachable. Keep making art, stay updated about ongoing art affairs, and keep fans aware of your continuing work.
Hanging your paintings in an art gallery and having observers walk past and admire it for a few minutes will not cut it. Ensure that you make frequent appearances at venues with your artwork; you may find someone who can change your world around within days or even your mentor.
Keep marketing each of your magical art pieces and explain the story behind them. Maintain good and healthy relationships with art gallery owners and other relevant associates that can benefit your career at various stages.
Step 11 – Marketing Yourself and Artistic Talents
While it may take time, your hard work will pay off eventually. Once you have a solid fan base, begin making public commentary and responding to invite interviews. Let the world know who you are, where you come from, and what led you to the divine passion of art.
Alongside, you can keep your work going, make public appearances, exhibit your work, and stay active on social media podiums. Apart from updating personal accounts, also display your work on reliable online platforms so that you make financial gains every time your artwork sells.
Artists can also write their monographs, create artistic books for junior art fellows and supporters, make illustrated children and adult books, and write their memoirs. All these tasks will take time, but are well worth the effort and add to your creative capital.
Step 12 – Working With a Professional Art Agency
When you think you are doing enough on your own, start working with a professional art agency. Sell your original artwork through local, national, and international art fairs, museums, and galleries. While some fairs allow displays of art, others sell stalls. You can opt for any of the two and make profits.
Another way to make money off a single painting is to sell prints of a popular and much-liked masterpiece. However, ensure that you follow all guidelines and are aware of all legal literature on buying and selling original artwork.
Become a Successful Artist – Conclusion
Becoming a professional and successful artist does not simply mean creating artistic pieces. It combines various factors that all work together to get you to the top. Find the right people and environment that motivate you to achieve all your goals and also keep you in touch with reality.
Keep practicing art in all its different forms to become the artist you always dreamt of. Stay connected with the world to know how the audience is responding to your work and consider positive feedback to create the most magical art loved by you and your fans.