How to Dress Like a Writer – For Her
Our content is reader-supported. We may earn a commission if you make a purchase through one of our links.
The writers' community does not have a uniform to go by, nor do we have a dress code. Different writers have different styles, and I believe that they tend to be unique and diverse when it comes to dressing and fashion. If you're a writer, you can wear anything as long as it makes you feel confident and blissful.
All things considered, even if the writers dress distinctively, there is still a stereotypical getup associated with their appearance and what they dress like. Writers can be usual about their dressing, but they do have their aesthetic. Most writers prefer to dress according to their writing styles. The following examples illustrate how you can dress like a writer.
Romance Writers
Majority of the romance writers imitate their own characters when it comes to fashion and appearance. A dressing style that would go along with their working style is mentioned below.
Tops and Bottoms
Silk shirts with pale flowers, frilled tops, pencil or draped skirts, and basic or flared pants are a must-have for a romance writer.
Hairstyles
Their hair is usually styled in a messy bun but may also be seen frequently styled as loose braids and curls.
Accessories
Graceful, slightly vintage, and simple jewelry, including sparkly yet classic bracelets, and darling amulets, are favored to dress like a writer.
Makeup
A nude lip, with a soft yet lustrous eye look, a splash of blush, and a sprinkle of highlighter is worn now and then.
Footwear
A pair of high heels are suggested to add to the confidence and aesthetic. In short, romance writers love subtle and artistic looks.
Dark Academia
Dark academia is associated with classic literature and old-fashioned art, which is in the limelight on social media and is well known among teens and young adults. Here's what you need to dress like a writer of the Dark academia culture.
Tops
The basics for this genre include plaid blazers and long coats, so if you are exceptionally passionate, you might want to spend some money on coats; they do add an aura of mystery to your outfit. Turtle necks and basic sweaters as also must-haves which look increasingly elegant with delicate necklaces and also complement perfectly with coats and blazers.
Bottoms
Plaid skirts(pleated or straighter), dress pants (can be more comfortable than a skirt), and knee-high socks are usually preferred for bottoms.
Color scheme
Remember to choose dark colors like navy blue, dark reds, browns, plaid, grey or black.
Accessories
Simple vintage and ancient jewelry, including pocket or wristwatches, simple belts, and make sure that the belt color matches the color of your outfit, especially shoes. If you want to spend a little extra, you can also carry a vintage leather bag and glasses.
Shoes
To finish off, you should get yourself a pair of flats, dress shoes, or short heels.
A Poetic Look
As a poet, if you have an urge to leave your audience overwhelmed with your outfit, you first must figure out the style of poetry you put in writing. The dressing and fashion style of poets are quite divergent and distinct in contrast to other writers and should be per the spectrum of poetry you formulate.
Being a poet, a person is always considerate and mindful of the words she thinks through and composes. To be among the prominent figures in the room, you have no choice but to transfer the attention to detail to your fashion sense as well. Here are some tips that will help you in achieving a phenomenal poetic look.
Be Showy and Dramatic
For a dramatic look, wear a lot of blacks. For example, tunics, black dresses, or even plain black shirts and pants would make a nice outfit. For footwear, wear boots or high heels to add to your dramatic look.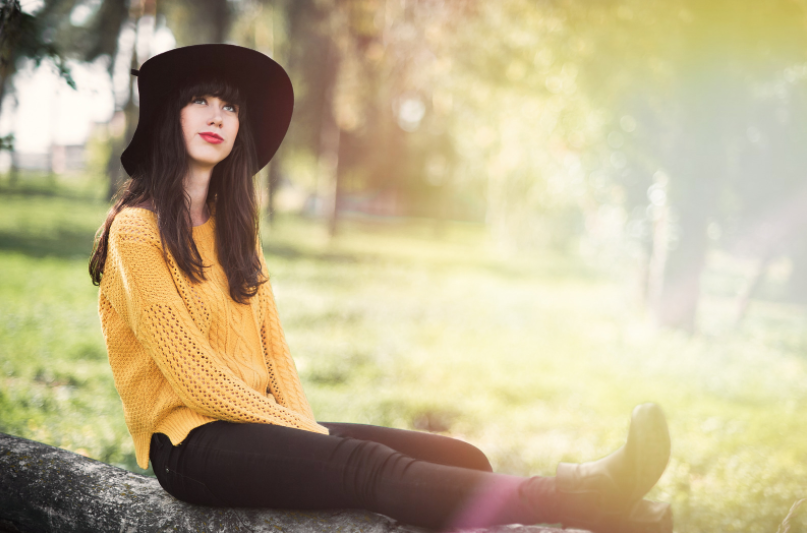 Always remember to dress in accordance with the poem; for instance, if the poem talks about seasons, say summer, wear bright colors and look as happy as a lark. Similarly, if it talks about Autumn, go for browns and reds. If it describes a garden, get dressed in a floral dress.
Add Accessories
You can always make your look more interesting by adding piercings or decorating your outfit with accessories like stylish belts and brooches. Carry an old camera from the '80s, carry an elegant book bag, and decorate it with stickers and pieces of paper from magazines. To add to the poetic allure, carry a cigar (solely for style).
Hair and Makeup
For hairstyles, imitate your favorite poets. For a poetic makeup look, slay a bold red lipstick. Don't be too extravagant, be yourself and try to keep your looks classic and simple.
Prevailing Fashion Trends Among Writers
Apart from the specifics that a writer adheres to, there are also some natural and informal trends among writers which you can adopt. These include wearing glasses of peculiar variety, for instance, black and squared,round-rimmed or rectangular. Always smell elegant, carry a book, a notepad, or your pen. For the pen makes you powerful.
Take some time out to find the best pen for yourself. You can also carry a kindle or a laptop to appear techier. Always choose to wear dark colors and baggy clothes when you are out and about. You could also choose to wear a bold lip as it enhances one's confidence.
Socialize, talk to people and be yourself. For a writer, what matters the most is her work and her writings. Instead of trying to dress like a writer, become a writer by expressing your imaginations and your diverse thoughts in words and bringing out new and interesting stories for people to read. Don't forget to utilize your utmost energy by pushing yourself every day to become a better writer.