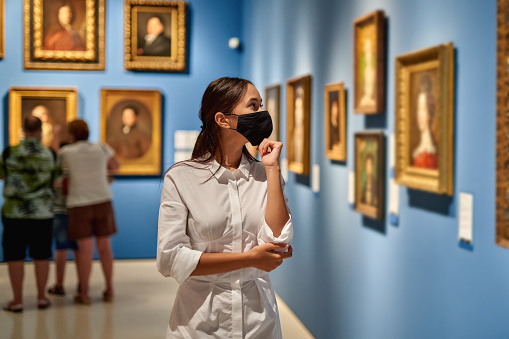 How to Buy Art Like a Professional Collector
Our content is reader-supported. We may earn a commission if you make a purchase through one of our links.
"The purpose of art is washing the dust of daily life off our souls" ~ Pablo Picasso
The earliest recorded instances of human civilization, all depict art in some shape or form. Is this a mere coincidence? The rational mind would disagree. Art has been scattered throughout the annals of history. Whether you roll time back to the Golden Era of Egypt or the French Renaissance, art has consistently been linked with tumultuous changes and developments.
Creativity and emotional capacity are two of the decisive factors of human nature, setting us apart from different mammals. Similarly, art has always been a medium used to convey emotions, creatively.
Art has been used as a tool for cultural exchange, education, and expression. After all, the stroke of a brush can convey more meaning than lines upon lines of words.
Why Buy Art?
In the past, collecting art was considered an activity for the upper echelons of society. Art collecting was an activity reserved for churches, royals and the extremely wealthy. The popular misconception that only the wealthy are patrons of art exists even to this day.
However, many fail to realise that in today's digitalized day and age, the hidden world of the art world has never been more accessible nor more democratic than it is today. After all, the exordium of digital media has made it possible to acquire original artworks from talented artists almost anywhere in the world.
To Support Talented Artists
Art collectors truly comprehend the value held by art and the culture associated with it, to society.
By becoming a patron of the arts you, as an art collector strengthen the art industry, helping up-and-coming talent to establish their name and support them in making a living by doing what they love.
The joy of watching an artist grow is unparalleled. After all, there is very little that is as exciting as seeing an artist who you immediately believed in grow and find a place for themselves within the industry. Apart from buying art, you can also consider writing about artwork to help growing artists reach international audiences.
To Personalize Your Space
This is probably the most common reason to collect art: sprucing up your residence or workplace.
In a time where standardization is the new norm, displaying different artworks is a great opportunity to liven up the atmosphere.
Putting different artworks on display is a sure-fire way to elevate your interior while simultaneously showcasing your unique taste and personality. Can there be anything more personal than turning your walls into your very own exclusive museum?
For the Love of Collecting
When it comes to art, part of the thrill lies in the rush of discovery when, after months of careful research, you find that perfect piece to add to your collection.
With time, art collections tend to become quite personal – they reflect your personal tastes, and how they've developed over time. Often, each piece of art will be associated with a memory of the time you discovered it – essentially making it a time capsule.
This is the reason why some of the more prominent art collectors fall in love with the adventure of acquiring art itself.
As a Long-Term Investment
This brings us to our next point on the list: many collectors consider art to be an excellent investment, especially as certain, prized pieces appreciate in value over time.
Here we see the duality when it comes to art collection: not only do you get to enjoy artworks and appreciate their hidden meaning, but you'll also have a safe investment that is bound to appreciate in time.
For instance, in June 2020, Sotheby's sold the "Triptych Inspired by the Oresteia of Aeschylus (1981)" by Francis Bacon, which was sold for a net total of $84.6 million.
Similarly, the "Ten Views of a Lingbi Rock (1610)" by Wu Bin, was auctioned off at the Poly Auctions in October 2020 for nearly $76.6 million.
These figures should be proof enough. Record-breaking sales are regularly reported by major auction houses. One should always aspire to purchase art from talented artists while it is still at an affordable price point. This will make your investments especially worthwhile.
Create a Legacy
The art of collecting art is more than just a transaction: it is a method of transferring history and culture. By collecting art, you invariably become a part of history, responsible for contributing to the cultural capital in the world.
Moreover, when it comes to collecting art, you'll be able to express your personality in the form of images and stories. Each piece of art comes with its own unique narrative.
An apt example of this would be the Ren Renfa, Five Inebriated Princes Riding Home (late 13th–early 14th century). This painting depicts the story of the five drunken princes after they had a very happy time, and then they got drunk and went back home," said Sally Fong, a specialist of classical Chinese paintings at Sotheby's.
While some may pass down jewelry or estate to the next generation, art collectors pass down heirlooms in the shape of a plethora of stories and hard work all of which constitute their art collection.
How to Buy Art – Simplified
When it comes to how to buy art, everyone has their own unique point of view. However, when it comes to professionals like gallery owners, collectors, experienced buyers and critics, their method of inspecting art is quite different from the rest of us. If you want to learn how to buy art, you might as well learn from the experts.
Slow, methodical deliberate, comprehensive, and complete. That is best how one could describe the inspection process for art connoisseurs. Nothing is left to chance-each and every nook and cranny is gone over with nothing left behind in the process.
To put it concisely: mastery of medium as well as mastery of materials, are expected. When referring to mastery, we're talking about how purposeful, conscientious and in control artists are of whatever outcomes they seek to achieve with their art.
Inspecting the Art
Masters of art collecting study entire compositions, not simply the parts that are the focal point of the painting that the artist wants the viewer to admire. Next, art collectors try to determine whether the artist has considered every single aspect of a composition, no matter how minor or insignificant.
Critics also look to see if any areas have been reworked or overworked or that the artists were unable to resolve. Essentially, what they're looking for are moments where the artist wasn't sure of what next to do: signs that the artist decided to make changes midway through or paint something over.
Art collectors want everything to have a purpose, look like it belongs there, look like what it's supposed to look like and not as something else. For example, if they see an area in an abstract that could be interpreted as a representational form or object that doesn't seem to belong, they might ask about it. The same applies to every other aspect from the artwork title to the color scheme used in it.
Inspecting the Technicalities
Moving on, assuming that the artwork has no perceptible flaws, the concession will move on to the technicalities- the art medium, the materials and the construction. f the materials of construction are not up to par, they'll affect the longevity of the piece itself. That's why cheap materials are always a cause of concern-unlike canvases, they can't be stretched tighter as they age. 
Likewise, inferior stretcher bars, low-grade canvas, or ingredients that may have tendencies to degrade over time cause a painting to lose value in the eye of critics. the reasoning? Artists who skimp on the costs of materials give the impression that they do not care that much about their art. And if they don't care about it, it's only fair that no one else would either.
Inspecting the Build
Lastly, the structure of the art is put to the test: how it's put together, not only in terms of aesthetics but also how well built it is. This includes the backs, the bottoms, the sides, the edges, the ingredients, and any other details that could be considered as comprising the artwork. For example, some of the questions asked, are whether the edge of a painting is stapled or tacked? Are there any random paint drips? Is anything fragile, shaky or loose?
To wrap it up, evaluating art requires far more attention to detail than just inspecting the artwork itself. The body, the materials, the paint – all elements of the artwork are put to the test. Indeed, one could say that evaluating art is an art in itself.
Stepping Into the World Of Art Collecting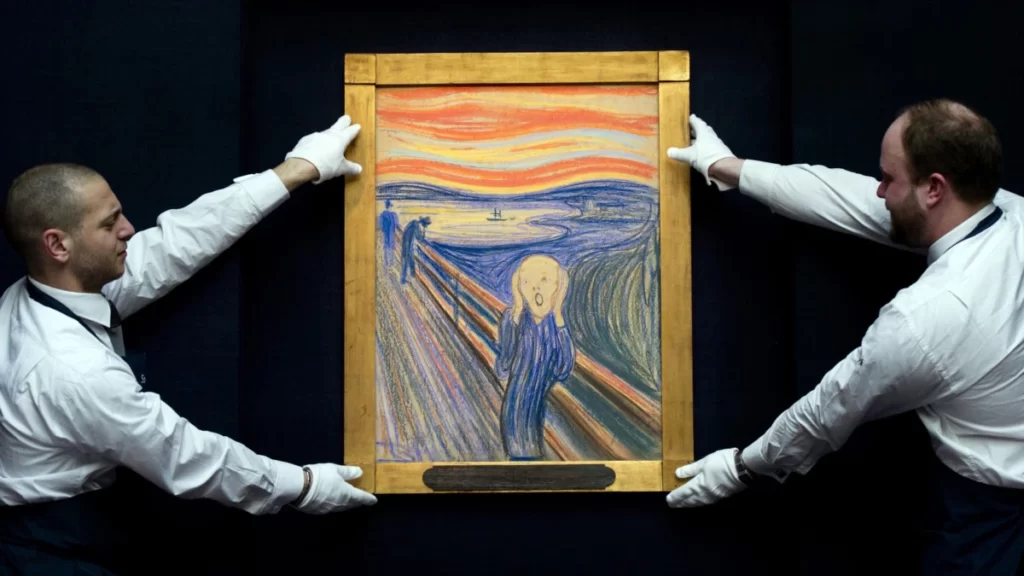 Deciding on your first art purchase can be a hard row to hoe. Our goal is to make that path easier and to provide you with the tools you need to set out on your journey into the world of art.
The first step toward learning how to buy art is to get a true sense of what interests you. To this end, visit museums, and art fairs, along with scouring online to determine which subjects and styles of art speak to you.
Know the Market
To begin understanding the cost of a specific artwork, and to negotiate a fair price for yourself, you'll have to put in the work to research the art market itself.
Wondering where to get started? Begin by reviewing auction catalogues and gallery websites and asking reputable dealers for their advice. In parallel, consider traveling to art fairs and see what other collectors are buying. At the end of the day, an informed purchase is always the best purchase.
Building Relationships
When it comes to the world of art, being social has big returns. Relationships with curators and galleries can give you access to information on new and upcoming artists and trends.
You could also opt to build relationships by supporting the arts themselves. To this end, consider donating what you can, because the more you can afford to give, the more opportunities there are to interact with curators and other patrons.
Setting up a Budget
Setting up a budget is quintessential. Moreover, factors such as buying directly from the artist, rather than through a gallery should be noted, as they can directly affect the price of an artwork
Furthermore, a high-end gallery may charge more than less-established galleries. Last but not least, don't forget to factor in overhead costs like insurance, shipping, framing and buyer's premiums on auction purchases into your budget.
Consider an Art Advisor
Art advisors can be a brilliant investment, especially when considering all the industry knowledge, relationships, and experience that they bring to the table.
If you've been thinking of hiring an art advisor, you should first understand their fee structure and factor that into your budget. Some art advisors work on a retainer, while others take commissions.
At the end of the day, rates vary from advisor to advisor, based on their history, experience, and specific interests.
Get Experienced with Auctions
To put it in simple terms: auctions can be very intimidating when you aren't well-versed with how to buy art. Before actually stepping into the world of auctioneering, we'd suggest attending some auctions simple for the sake of gaining experience, as a trial run of sorts.
This way you'll feel more confident, collected, and ready to bid when you're ready.
Assess Before You Buy
Though falling in love with a painting is important, it's just as important to assess what you're about to buy. For starters, make an effort to see each potential piece of art in person.
Next, try to find out more about the artist themselves, their reputation and their accomplishments. Take it a step further and talk with a dealer you trust to affirm that it's reasonably priced. Ask yourself: "Will it fit in with the rest of the pieces you've collected"? "Do I truly find the piece enjoyable, or is it just a momentary delight?"
Only proceed once you're completely certain that the art is of sufficiently high quality and it speaks out to you on a personal level.
How to Buy Art – Conclusion
When it comes down to the brass tacks of art collecting, experience has the most important role to play. We hope this guide gave you a solid understanding of how to buy art and all the ins and outs of it. However, you don't necessarily need to be an art connoisseur to purchase art. After all, good artwork speaks to everyone, not just to critics!