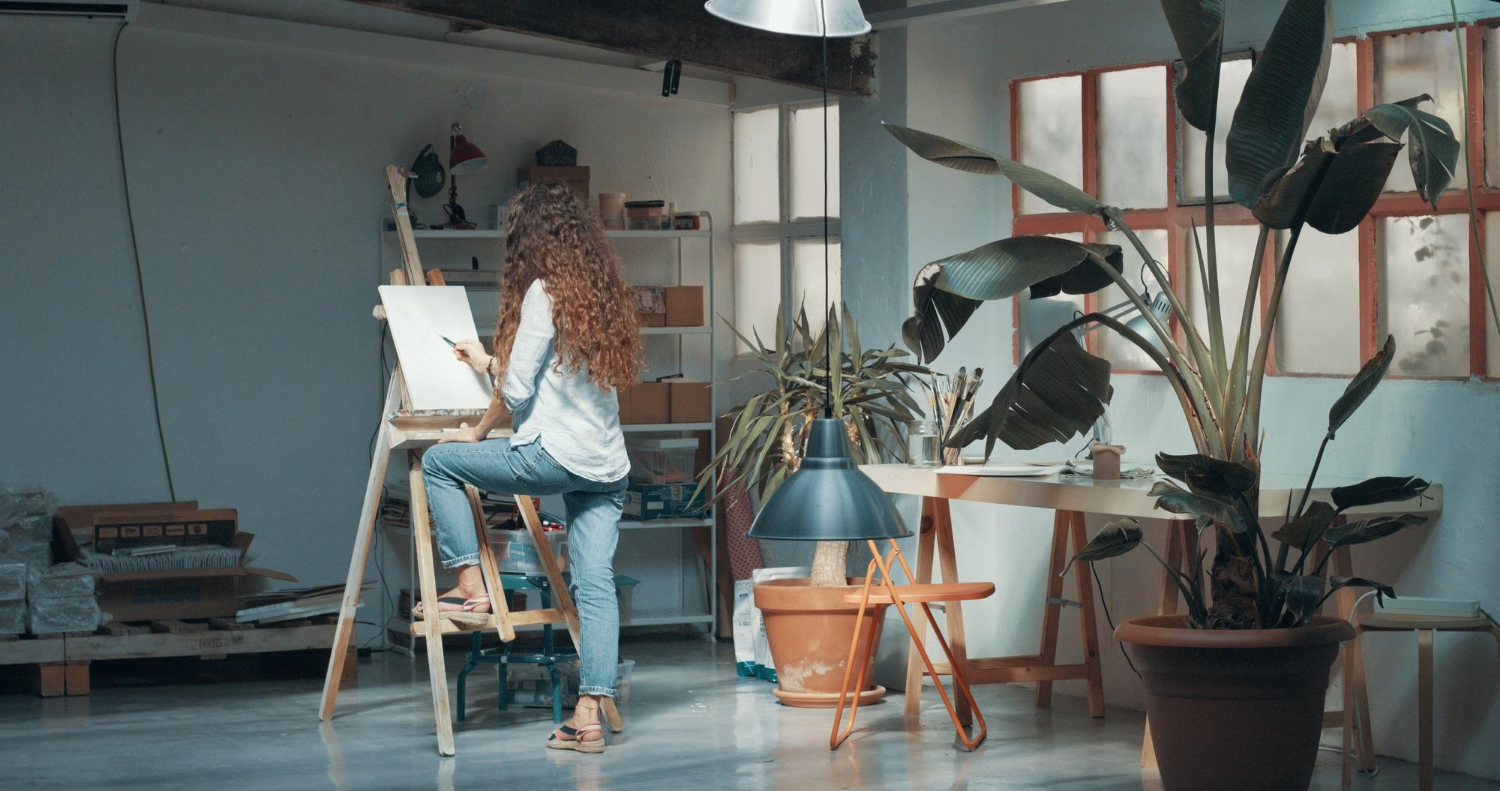 How to Design an Art Studio?
Our content is reader-supported. We may earn a commission if you make a purchase through one of our links.
An art studio is a place of discovery, experimentation, and inspiration. It's a safe haven for the artist it belongs to, where they can feel free to spread their wings and create art without any worry in the world.
Your art workspace is one place for you to devote yourself to creating art, practice your passion and discover new avenues of doing so. It's a place where your mind feels at ease to let go of all of your worries and concentrate all your energies on one thing: art.
A unique angle in seeing your art studio is as a counterpart to an art gallery or museum. These are really important places and a lot of thought goes into designing them to create the right ambiance for the audience.
Being counterparts, an art studio is as important a place as an art gallery. While a gallery or museum serves to display works of art, the former is a place to create them. An equal or even greater amount of thought should go into designing art studios to create the right working conditions for the artist. And believe it or not, how your art workspace looks goes a long way in defining you as an artist and what you accomplish in your career.
The 'Why' of Art Studio Design
When an artist enters their art studio, the artist, their work, and their workspace, everything transitions into a state of progress. Everything becomes subject to change, and no one ever, not even the artist, knows what the future holds for a particular piece of art or what idea is going to storm their mind over in a matter of seconds.
Sometimes, when you're exploring one idea, your mind might race into an array of potential ideas you want to discover. When you're doing something you're passionate about, it's very natural to have your thoughts race off on random and spontaneous tangents, potentially distracting you from the main course. And oftentimes, your art studio can get all jumbled up while you're trying to pursue a lot of different art avenues at the same time.
As an artist, you should never hold back the explorer inside of you. Let your passion flow into whichever direction it takes you. Speaking of that, your art studio should enable you to explore a multitude of ideas at the same time rather than hold you back. It's true that sometimes things do get a bit messy in an art studio, but with a well-planned workspace, everything becomes much easier.
Almost every passionate artist has experienced an anxious or hesitant feeling when entering their art workspace. Such moments are not so rare among artists who want to accomplish the best they can with their work. And this is the most important reason why your art studio should be a safe haven for you rather than a cluttered space full of anxiety that not only hinders your productivity but also leaves you feeling emotionally exhausted when you step out of it.
Okay, enough philosophy! Let's get right into the fun part! Here are seven tips that will show you how to design an art studio.
7 Tips on How to Design an Art Studio
1. Your Workspace Should Inspire You, and the Other Way Around
When you finally get down to designing your art studio, you need to visualize in your head a workspace which you can get inspired from. Envisage your ideal workspace, a place that will inspire you to create beautiful stuff.
We acknowledge that the perfect art studio you dream of is often out of reach. However, there are still some things you can try to achieve and incorporate within the space you have. If you don't have a separate room, you can also convert your living room into an art studio! So what if the giant pegboard you always wanted seems like a distant dream, you could always start little.
Let yourself inspire the workspace you'd be working inside in the coming future, and this, in turn, will allow your workspace to inspire you when you have an 'Artist's Block.'
Paint the walls with the color of your choice. Choose a light theme for a jolly vibe or a dark one if your art style is more solemn. Make the most of the space you have with different installations like pegboards and strings to achieve the theme you want.
2. Separate Your Needs and Wants
Modern-day artists need to design the perfect workspace for themselves, all within the limited square footage. Even the most spacious art studios can start looking cramped if you don't plan ahead.
As you start adding or removing objects from your workplace, make separate lists for your needs and wants to better organize the place. You can't have the large wooden mannequin hang around the corner if you're short on space and you seldom use it. Prioritize functional things over décor.
3. Light, Light, and Light!
There's no art if there's no light, literally! The importance of light in art can never be stressed enough.
Every artist agrees on the need for adequate natural light to create quality art. However, not all artists have spaces full of sunshine or are able to make their art during the bright hours of the day. So, we have to make do and improvise with what we have.
If you've got large windows that light up the room perfectly, be sure to place your easel at an angle that allows perfect lighting on the art as you work. Even if you don't have a lot of natural daylight, invest some money in buying bright LED lighting that imitates natural light closely. You want your workspace to be well-lit so you can see the true colors even during the passionate midnight creative sessions.
4. Organizing Your Materials
Organizing your art workspace is the key to productivity. But it needs consistency and you have to develop a few habits to keep your space tidy. Don't worry, you won't need to buy expensive art boxes or build compartments to keep your supplies well-organized. You can do so just as well with some recycling.
Use glass jars to keep your pencils, brushes, and knives. Try storing your supplies in a way that makes them quicker to find when you need them. Look for any unused containers you could make use of. The more storage space you have, the more decluttered your studio looks.
Just make sure to keep everything easy to access. So when you need something, you can find it quickly without making a great mess.
5. Bring in the Tech!
Your art studio doesn't have to have a vintage touch to it for it to look good. This is the era of technology. Therefore, make sure you're making good use of it to be successful as a modern-day artist.
Taking good pictures of your art, uploading them on your social media, and managing your online art gallery requires you to have a good camera, a PC, and some other gadgets too. Take out some space to place all the technology you need for your art. Creating an all-in-one space increases your productivity by scores!
As a side note, you can learn how to grow your Instagram audience as one of the many ways to create your own artist brand online.
6. Upgrade Mobility With a Rolling Cart
You don't necessarily have to have a giant art studio to have a rolling cart to push all your supplies around the place. Even if you're working in one corner, having a rolling cart can do wonders for you.
Tired of picking up each palette and brush and making several trips to the sink to get everything cleaned up? That would not be the case if you had a rolling cart. You could arrange all the supplies you need and roll them around with you wherever you need them, allowing you to concentrate your energies on your work rather than constantly hassling to retrieve the things you need.
7. Install a Sink
Although it may look a bit unconventional, adding a sink to your art workspace is the most important thing you could put in there. No more carrying everything to the kitchen sink to clean your supplies. With the in-built sink in your art studio, keep your supplies clean effortlessly, and save tons of time.