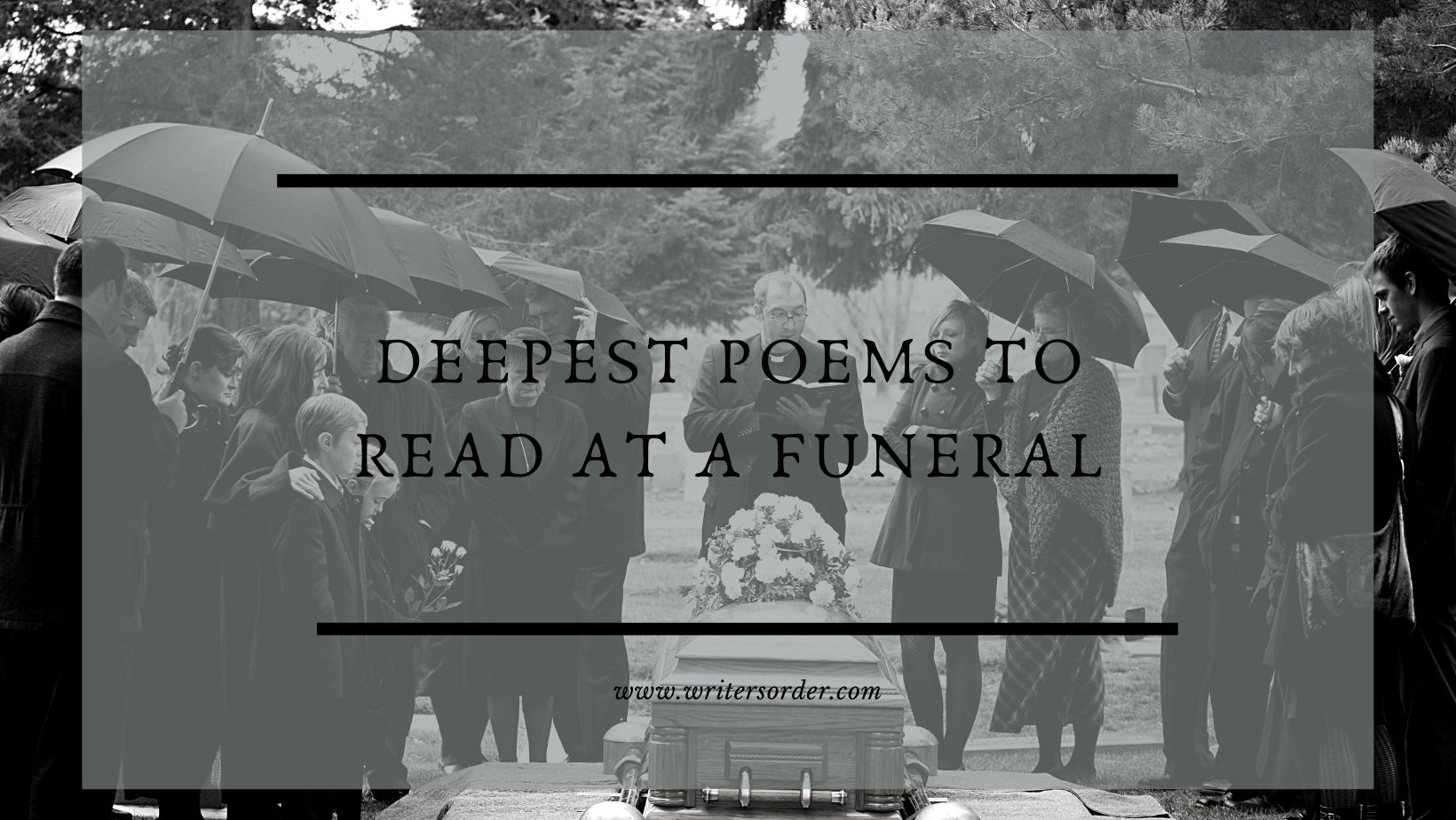 5 Deep Poems to Read on a Funeral
Our content is reader-supported. We may earn a commission if you make a purchase through one of our links.
Have you ever pondered about what life is? A lark? A droplet of water?
It is a kind of journey where every traveler has to reach a destination. The destination is the same for all. During this knockabout, we meet multiple people, each of us is provided with a fixed time to reach the terminus. Losing a dear one who has been accompanying you in the course of life is a different sort of pain, the baffling.
Here is the collection of a few pieces of deep funeral poems that are so well-plotted that they can make a person feel the agony a depressed person has undergone.
"Dear Friend" by Stephanie Solis
Today is the day you will be laid to rest,
But you know what they say,
God only takes the best.
Everything happens for a reason,
Even if we may not agree.
Just promise to look after us,
And if you can,
Save a spot up there for me.
The thought of never seeing you again brings tears to my eyes,
And even more so,
Because all of this was such a surprise.
But we should never question what God has planned,
Sometimes it's not meant for us to understand.
So as we sit here and mourn the loss of a beloved friend,
We have to keep telling ourselves that we will meet again.
ANALYSIS:
What an admirable composition by Stephanie Solis!
The words crafted can make the reader perceive the feeling almost every man has languished. The theme that is presumed is the PATIENCE of the suffering. No complaints, no sound off. Simply the acceptance of God's decision. Isn't that amazing? We all have a substantial belief in the law that Death is irreversible. So being a human, a good and warm farewell could be the only contribution to the departed one.
Solis has beautifully summed up the emotions in the verse where she mentions that memories of her beloved one were bursting her into tears. The terrible moment a person could suffer from!
But what a level of endurance we humans possess! What a staying power we hold! Death is a concrete happening, an aspect above our plan, already decided, preplanned.
A person never knows the expedience behind God's sentence. The endurance is the only option left, and so we have to take it on.
At the end of the poem, she simply points to power an ordinary creature owns; merely sit and sob in the interest of flashback of the golden moments the two spent together. Memories!
But wait, that is not all.
Well, it's not a duck soup to accept the lack of our dear one forever. So nature has endowed us with HOPE, which she has formulated in her last sentence. Hope is the highborn virtue that everyone grasps. The hope to meet in Eden, the golden dream to be together in the eternal world. It is the sound impulse behind the enduring soul.
"Afterglow" by HelenLowrie Marshall
I'd like the memory of me to be a happy one.
I'd like to leave an afterglow of smiles when life is done.
I'd like to leave an echo whispering softly down the ways,
Of happy times and laughing times and bright and sunny days.
I'd like the tears of those who grieve, to dry before the sun;
Of happy memories that I leave when life is done.
ANALYSIS:
What a unique collection of words! An offbeat theme, different from typical sad lyrics. The lyricist has taken into the picture a different perception. According to her, Why can't our departures be glorious? Considering that, we had lived our lives to at fullest? Why should not we celebrate our goodbyes? Why should we leave everyone mourning? The grand idea proposed by Helen is that she wants everyone to send her off with energy and dynamic. The central idea on which the poem stands is that Happy endings exist. It all depends on an individual that how he used to perceive the incidents.
Of course, to weep over a gone soul is a natural phenomenon but one should hold off. Since a departing person deserves a warm goodbye, not the low spirit split up.
"Grandpa, I Miss You" by Amanda Dwyer
I know it hurt you;
It hurt me too,
But now that you're gone
All I know is I miss you.

You were there for so long.
I never thought you would leave.
I thought you had another year
Waiting up your sleeve.

The day that you left
Was the saddest of my life.
I remember sitting at home
And crying all day and night.

I might be selfish,
But I wish you were here
Or that you stayed
For one more year.

I know you loved me,
And I still love you too,
So I'm trying to be strong
Just for you.

I know I'm not perfect.
I know I'll never be.
I just hope you're up there
And that you're proud of me.

You had to let go
Even though you were holding on for so long,
But there's not a day I don't think of you
And how you were so strong.

I just want to tell you
That you're always in my heart.
Even though I still cry,
I know we're not apart.

Thinking of you, Grandpa.
ANALYSIS:
Here is the poetry enlighting a part of our grandparents. Most of the time, we cant express our love to them, which may be due to the generation gap. But once we lose them, the loss becomes immutable; the moment we want them back, the time our hearts desires their presence is very well-elucidated in the poetry.
In the second stanza, the poet has added up to our most overlooked wish, that urge to live our lives together with our beloved ones, our dear ones. It is a normal human perception that we all will live together, even though we know we will die. How much credulity we humans hold!
One of the points given the low down is that our grief and sorrow are for us but indeed of no worth to the departed soul. So the only practical and sensible decision at that moment a man could take is to craft himself the best way the gone soul wanted him to be.
In the last lines, the poet declares that memories are our assets. Death may break the physical bonds, yet the hearts will always band together. So is the factor that holds the two together despite living in different worlds.
"Do Not Stand at My Grave and Weep" by Mary Elizabeth Frye
Do not stand at my grave and weep
I am not there; I do not sleep.
I am a thousand winds that blow,
I am the diamond glints on snow,
I am the sun on ripened grain,
I am the gentle autumn rain.
When you awaken in the morning's hush
I am the swift uplifting rush
Of quiet birds in circled flight.
I am the soft stars that shine at night.
Do not stand at my grave and cry,
I am not there; I did not die.
ANALYSIS:
It is a refined piece of literature created by Mary Elizabeth. In her poem, Mary has considered that the end of life should be taken only as the disappearance of a physical state. A deceased person only lacks his physical manifestation among all. However, he could be ascertained easily in nature.
She further proposed the idea that to cry and weep over the final resting place is run-down. We can overview this idea by tossing about another aspect. It says that our memories with our beloved ones should be so influential that even after they leave, we can explore them in every feature of the creation, the seasons, the parts of the day, and the other fundamentals. It looks like Mary wants to buck up the people by making them think that they will always live together. Surely, not objectively but in several different guises.
"To My Uncle" by Georgia Harkness (modified)
A giant pine, magnificent and old
Stood staunch against the sky and all around
Shed beauty, grace, and power.
Within its fold birds safely reared their young.
The velvet ground beneath was gentle,
and the cooling shade gave cheer to passers-by.
Its towering arms a landmark stood, erect and unafraid,
As if to say, "Fear naught from life's alarms".
It fell one day.
Where it had dauntless stood was loneliness and void.
But men who passed paid tribute – and said,
"To know this life was good,
It left its mark on me. Its work stands fast".
And so it lives. Such life no bonds can hold –
This giant pine, magnificent and old.
ANALYSIS:
An elegant piece of poetry by Georgia Harkness.
It is an obvious fact that life is not a bed of roses. It is a kind of roller coaster. We all have to pass through multiple phases on and off. Good days pass without a hitch and some days are hard as nails. But at that time, there is a soul who pulls us out of the fire. When leaving, it appears like we are once again standing under a hot sky.
The same idea has been endeavored by Harkness in this poem. She is in deep grief for her uncle. Her words show that her uncle was the one who stood with her side by side on her rainy days. She has made a close resemblance to her uncle with that pine tree that supports life. It faces the sun but provides every comfort to the one resting in its shade. How beautifully has she explained her feelings.
And once the tree falls, it leaves its mark. Similarly, the pious deeds of man are his marks on people's hearts where he dwells forever.